The time for energy integrity through Solar and Renewable Solutions is here and Dyna's team is ready to walk you through the entire process.
We Are
just getting started.
Dyna's Turn-key Solar services are making a lasting impact on New England's Solar Industry.   Find out more.
Solar Power is for everyone and we enjoy forming positive, professional relationships among a wide array of industries:
Businesses – Large and Small
Municipalities
Schools & Colleges
Agriculture
Land
Non-Profit Organizations
Religious Affiliations
Not your average solar contractor – Dyna offers Turnkey Solar Solutions for all our clients!
Development & Design
Permitting
Incentives & Rebates
Construction & Sitework
Complete Installation
Service
Maintanence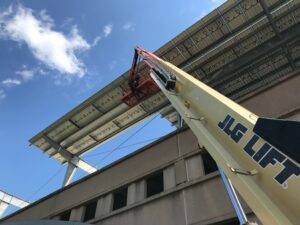 If you can dream it, we can build it.  We lend experience to all kinds of Solar Panel Systems:
Rooftop Solar Arrays
Ground Mount Systems
Carports and Canopies
Turn-Key

Solar & Renewable Energy Solutions
Dyna is committed to excellence on each and every solar project from design to completion.  
It's not a race to the top – we value our relationships with some of the top solar contractors in the country, our team takes pride in working together to bring the end user the best system for their dollar.  
"We've been fortunate to partner with Dyna Electric on a number of projects over the past few years and there is no other electrical contractor that we would rather work with in Connecticut. Their quality of work is top notch and we look forward to continuing to do business with them."
Follow us on social media to see more of what we do and stay current on our current projects.
Looking for a career in
Solar?
Want to learn more about joining Dyna's growing Solar team? We offer many opportunities to learn and grow in the renewable energy, Electrical, Construction, and Solar Sectors.  Come grow with us.